Jakob Butturff Wins PBA Clash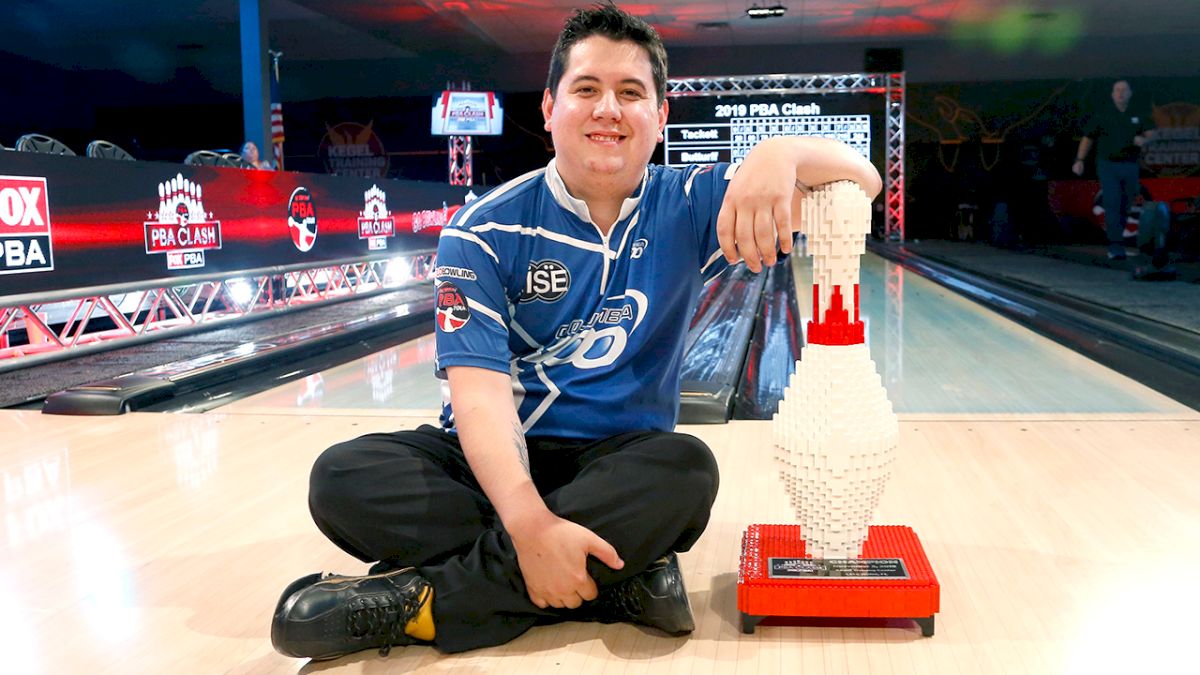 LAKE WALES, Fla. – Jakob Butturff isn't afraid to throw his Hammer Purple Pearl Urethane as close to the gutter as possible because with high risk comes high reward. 
Butturff relied on the ball he calls "old faithful" to play the same part of the lane on two different oil patterns to earn the winner-take-all $50,000 PBA Clash prize over EJ Tackett, 258-244, at the Kegel Training Center.
In the championship match, Butturff stepped up for his first shot and his Purple Pearl, which had been flirting with the gutter throughout the day, found its way into the ditch. He was able to clean it up with a spare.
"If you know the look is there, where you have to take a risk, you do it," he said. "I knew there was no way I could throw a bad shot like that again."
Tackett led early but his counterpart took over, rolling six strikes in a row from the third to the eighth frame. In the ninth, Tackett, who was working on three strikes went high, leaving the 3-6-10. He picked it up and finished with 244. Butturff almost left the 7-10 in the ninth but luckily the seven fell and he barely picked up the 10. He struck out for 258.
After winning, Butturff said he felt a little bit of redemption after losing to Tackett at the Barbasol PBA Tour Finals earlier this year in Las Vegas.
"If it would have been my first time (bowling in the PBA Clash) it would have definitely been a little bit more nerve-racking, but since I was in the Clash last year, I felt like that took a little bit of pressure off," Butturff said.
Viewers were treated to a field of top money winners on the PBA Tour that also included Jason Belmonte, Bill O'Neill, Kris Prather, Anthony Simonsen, Sean Rash and Norm Duke, the only player to win back-to-back tournaments this year.
It began with everyone bowling a 10th frame with the lowest score eliminated. Any ties were broken by a one-ball rolloff. In the following rounds, the bowler with the lowest score was eliminated and there were rolloffs in case of a tie.
Butturff's journey to the winner's circle looked like it would end early. Prather was the first to open with a nine count after failing to convert the 2-8 sleeper. Butturff, who won three tournaments this year including the USBC Masters, left the 2-4-6-7-10.
"It's amazing to leave a five-count split and still advance to the next round," the lefty said. "I looked over at Prather, I'm like 'dude, I'm literally praying that I spare this' and sure enough ended up making it. It was awesome."
The lefty struck on his final shot to advance and cruised to the championship match. He only had to throw nine shots while Tackett threw 17 shots as he battled his way to the final two. Tackett, who won one title this season, defeated Duke in the second round and outlasted O'Neill in the third round one-ball format.
Butturff admits it has been a rollercoaster year for him. His mom has been battling lung cancer for a couple of years now, but recently they found out her stage four lung cancer was non-curable.
"The one thing she absolutely loves is watching my bowling," Butturff said. "She loves watching me succeed and that is why I try and go out there and compete the best I can is because I know she is watching even from afar. Keeping her happy by the way I'm bowling is the one thing I always want to do."
The 2020 PBA Tour season begins Jan. 14 with the PBA Hall of Fame Classic in Arlington, Texas, and FloBowling will have live coverage of all rounds leading up to the finals.
---